Sewing and Doctor Who are old acquaintances. Fans have been interested in cosplay for years. But some fans aren't about making copies of on-screen wardrobes. Instead, they like to mix in their Doctor Who to everyday fashion.
Here's a little treat I found that incorporates a bit of time travel. Imagine Clara hangin' with Richie and the Fonz, and you'll be close to where this edition of So Sew Vintage is pitched. There are four videos that tell you how to make a four panel circle skirt using a very special TARDIS motif, and one that demonstrates how to make a matching hair bow!
The skirt
The following videos are in the order you'll need to complete this project. The fabric used here can be found at http://spoonflower.com. While I could just point you to the exact pattern used, lemme do something much more fun. Click here and you'll see all of spoonflower's Doctor Who fabrics. And, lemme tell ya, there's a lot of 'em. You'll be lost on that page for a few hours, if ya love shopping for fabric even a little bit.
But, on to the instructions!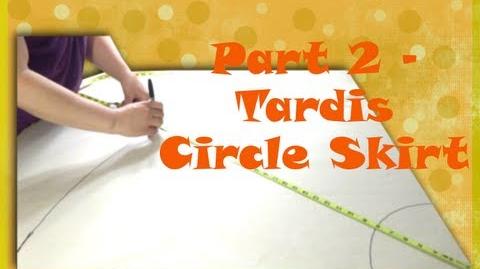 The bow
Wondering what to do with any remaining scraps? Make a big ol' hair bow, of course!
Your turn!
Have you found any videos that tell you how to make Doctor Who-themed vintage clothing? If so post 'em below!
Community content is available under
CC-BY-SA
unless otherwise noted.