(50 intermediate revisions by 6 users not shown)
Line 1:
Line 1:
 

[[Image:Simplicity-dashiki.jpg|450px|70s Dashiki]]

 

[[Image:Simplicity-dashiki.jpg|450px|70s Dashiki]]

 
 
−

Simplicity 5043; ©1972; "The Dashiki" Men's Shirt in Two Lengths or Misses' Dress in Two Lengths: The men's shirt or misses' dress has set-in sleeves, and high round neckline with front slit opening. Ankle length V.1 with novelty braid trim has shaped sleves, slits in side seams and optional purchased belt. Short length V.2 with short sleeves is made of cotton panel print as well as other fabrics.

+

Simplicity 5043; ©1972; "The Dashiki" Men's Shirt in Two Lengths or Misses' Dress in Two Lengths: The men's shirt or misses' dress has set-in sleeves, and high round neckline with front slit opening. Ankle length V.1 with novelty braid trim has shaped , slits in side seams and optional purchased belt. Short length V.2 with short sleeves is made of cotton panel print as well as other fabrics.

 
 
 

The envelope says, "Note: This envelope contains only one pattern...either the men's shirt or the misses' dress."

 

The envelope says, "Note: This envelope contains only one pattern...either the men's shirt or the misses' dress."

Line 10:
Line 10:
 
 
 

== Sources/Vendors ==

 

== Sources/Vendors ==

 
+

*[https://www.etsy.com/listing/1008627189/vintage-1972-simplicity-sewing-pattern Sew Vintage Detroit]Misses' Size 10 Bust 32.5 Uncut

−

*[http://www.dellajane.com/sewingpatterns_men.html DellaJane]

 
−

*[http://risingfeenix.com/inc/searchresults?s=5043&ss=5043&n=804763 Out of the Ashes Collectibles] UNCUT

 
−

*[https://www.etsy.com/listing/178995133/1970s-womens-dashiki-caftan-pattern ErikawithaK Vintage] B34

 
 
 
 

== Gallery ==

 

== Gallery ==

 

[insert your photos of this pattern made up]

 

[insert your photos of this pattern made up]

 
 
 
+

''Add a photo to the gallery by clicking the "modify" button below.''

⚫
 
 
+

<br /><gallery position="center" captionalign="left">

 
+

</gallery>

 
 
 
⚫
 

[insert your username, and make sure your preferences allow for people to contact you via e-mail. Do not list your email address here!]

 

[insert your username, and make sure your preferences allow for people to contact you via e-mail. Do not list your email address here!]

 
+
−

[[Category:Vintage Sewing Patterns ]]

+

[[Category:Vintage Sewing Patterns]]

 

[[Category:Simplicity]]

 

[[Category:Simplicity]]

 

[[Category:1970s]]

 

[[Category:1970s]]
---
Latest revision as of 23:14, 29 May 2021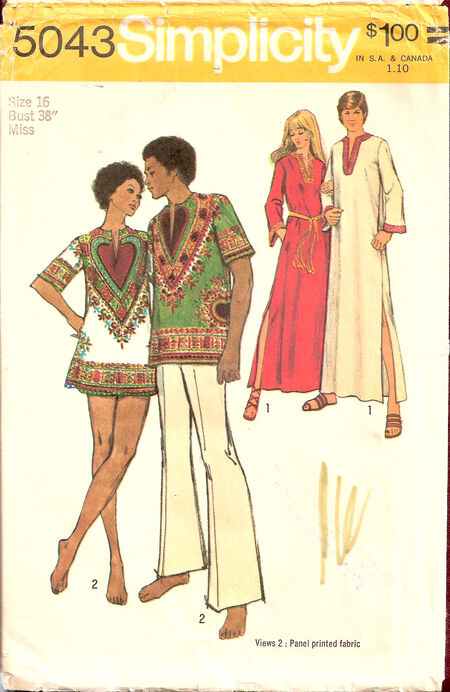 Simplicity 5043; ©1972; "The Dashiki" Men's Shirt in Two Lengths or Misses' Dress in Two Lengths: The men's shirt or misses' dress has set-in sleeves, and high round neckline with front slit opening. Ankle length V.1 with novelty braid trim has shaped sleeves, slits in side seams and optional purchased belt. Short length V.2 with short sleeves is made of cotton panel print as well as other fabrics.
The envelope says, "Note: This envelope contains only one pattern...either the men's shirt or the misses' dress."
Links to reviews/blog posts[]
Sources/Vendors[]
Gallery[]
[insert your photos of this pattern made up]
Add a photo to the gallery by clicking the "modify" button below.

Wishlist[]
[insert your username, and make sure your preferences allow for people to contact you via e-mail. Do not list your email address here!]