(Page Layout Builder Migration)

Line 1:
Line 1:
 
+

[[ File:DB_2533B-3.jpg | frameless | left | 600px | File:DB_2533B-3.jpg ]]

−

<plb_layout val_1="File:DB_2533B-3.jpg" val_2="From the envelope – CHILD'S CAP, JACKET AND SKIRT IN TWO LENGTHS. For school or sports wear. The skirt is finished with a wide waistband and suspender top and may be topped by a fitted waist-length jacket buttoning down-the-front. The shorter skirt is ideal for skating.&#13;&#10;&#13;&#10;Suggested fabric types: LONG SKIRT OR JACKET: Linen, pique, novelty cottons, flannel, novelty wools, wool crepe. LONG SKIRT: Velveteen, corduroy. CAP, JACKET AND SHORT SKIRT: Corduroy, velveteen, wool crepe, novelty wools, flannel.&#13;&#10;&#13;&#10;Copyright 1940 by DuBarry Ltd.&#13;&#10;&#13;&#10;Adorable dress!" val_3="[http://www.etsy.com/listing/67584006/vintage-girls-dress-pattern-dubarry W&amp;F Originals]" val_8="" val_9="" layout_id="83415" cswikitext="[[Category:Vintage Sewing Patterns]]&#13;&#10;[[Category:DuBarry]]&#13;&#10;[[Category:1940s]]&#13;&#10;[[Category:1940]]&#13;&#10;[[Category:Girls]]&#13;&#10;[[Category:Children]]&#13;&#10;[[Category:Jackets]]&#13;&#10;[[Category:Skirts]]&#13;&#10;[[Category:Caps]]&#13;&#10;[[Category:Hats]]&#13;&#10;[[Category:Accessories]]&#13;&#10;[[Category:Flared Skirts]]&#13;&#10;[[Category:Gored Skirts]]&#13;&#10;[[Category:Contour Waistband]]&#13;&#10;[[Category:Suspenders]]&#13;&#10;[[Category:Jackets]]&#13;&#10;[[Category:Collarless]]&#13;&#10;[[Category:Front button closing]]&#13;&#10;[[Category:Long Sleeves]]&#13;&#10;[[Category:Skating]]&#13;&#10;[[Category:Braid Trim]]"></plb_layout>

 
 
+
 
+

<br clear="all"/>

 
+
 
+

==Pattern Description==

 
+

<p>

 
+

From the envelope – CHILD'S CAP, JACKET AND SKIRT IN TWO LENGTHS. For school or sports wear. The skirt is finished with a wide waistband and suspender top and may be topped by a fitted waist-length jacket buttoning down-the-front. The shorter skirt is ideal for skating.

 
+
 
+

Suggested fabric types: LONG SKIRT OR JACKET: Linen, pique, novelty cottons, flannel, novelty wools, wool crepe. LONG SKIRT: Velveteen, corduroy. CAP, JACKET AND SHORT SKIRT: Corduroy, velveteen, wool crepe, novelty wools, flannel.

 
+
 
+

Copyright 1940 by DuBarry Ltd.

 
+
 
+

Adorable dress!

 
+

</p>

 
+
 
+

==Links to reviews/blog posts==

 
+
 
+
 
+

==Sources/Vendors==

 
+

<p>

 
+

[http://www.etsy.com/listing/67584006/vintage-girls-dress-pattern-dubarry W&F Originals]

 
+

</p>

 
+
 
+

==Wishlist==

 
+
 
+
 
+

==Gallery==

 
+
 
+

[[Category:Vintage Sewing Patterns]][[Category:Vintage Sewing Patterns]]

 
+

[[Category:DuBarry]]

 
+

[[Category:1940s]]

 
+

[[Category:1940]]

 
+

[[Category:Girls]]

 
+

[[Category:Children]]

 
+

[[Category:Jackets]]

 
+

[[Category:Skirts]]

 
+

[[Category:Caps]]

 
+

[[Category:Hats]]

 
+

[[Category:Accessories]]

 
+

[[Category:Flared Skirts]]

 
+

[[Category:Gored Skirts]]

 
+

[[Category:Contour Waistband]]

 
+

[[Category:Suspenders]]

 
+

[[Category:Jackets]]

 
+

[[Category:Collarless]]

 
+

[[Category:Front button closing]]

 
+

[[Category:Long Sleeves]]

 
+

[[Category:Skating]]

 
+

[[Category:Braid Trim]]
---
Revision as of 20:36, 31 May 2012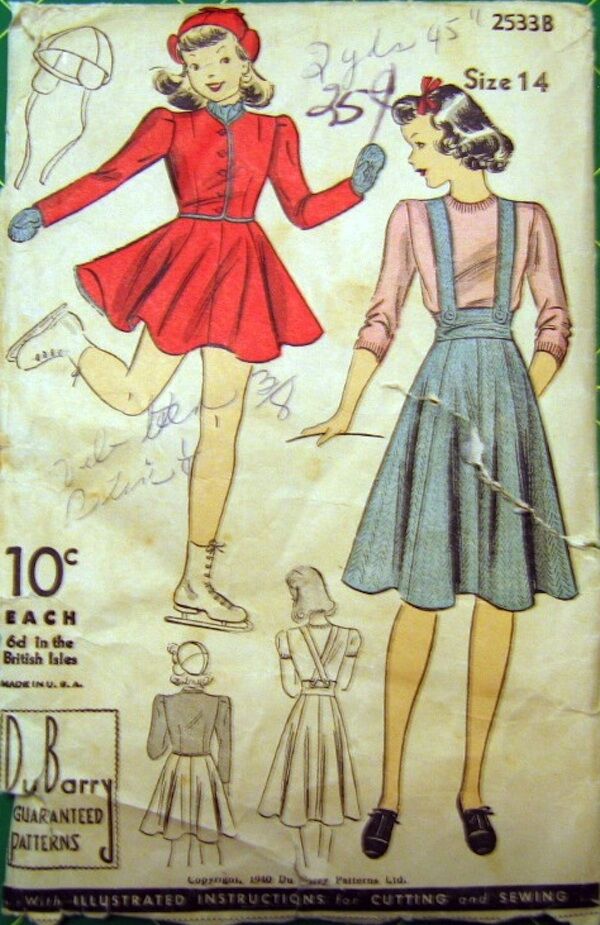 Pattern Description
From the envelope – CHILD'S CAP, JACKET AND SKIRT IN TWO LENGTHS. For school or sports wear. The skirt is finished with a wide waistband and suspender top and may be topped by a fitted waist-length jacket buttoning down-the-front. The shorter skirt is ideal for skating. Suggested fabric types: LONG SKIRT OR JACKET: Linen, pique, novelty cottons, flannel, novelty wools, wool crepe. LONG SKIRT: Velveteen, corduroy. CAP, JACKET AND SHORT SKIRT: Corduroy, velveteen, wool crepe, novelty wools, flannel. Copyright 1940 by DuBarry Ltd. Adorable dress!
Links to reviews/blog posts
Sources/Vendors
Wishlist
Gallery
Community content is available under
CC-BY-SA
unless otherwise noted.