(4 intermediate revisions by one other user not shown)
Line 1:
Line 1:
 

[[File:Advance6954.jpg|left|]]<br style="clear: both" />

 

[[File:Advance6954.jpg|left|]]<br style="clear: both" />

 
 
 
+

MISSES' TWO-PIECE DRESS. The TWO-PIECE Dress with THE ONE-PIECE look. Blouse has long shoulder, collar cut in one with neckband, V yoke in back with gathers below it. Skirt has soft casual drape and can be petticoated. Inward turning soft pleats form inverted pleat at center front and back, box pleats at sides. (View 1) Long sleeves, French cuffs. Cut for stripe. (Views 2, 3) Soft short sleeves, band cuffs. In one fabric or contrast. Zipper in side seams.

 
 
 
⚫
 
 
⚫
 
 
 
 
⚫
 
 
 
⚫
⚫
 
−
 
−
 
⚫
 
 

[insert your photos of this pattern made up]

 

[insert your photos of this pattern made up]

 
 
−

= Wishlist =

+

= Wishlist =

 

[insert your username, and make sure your preferences allow for people to contact you via e-mail. Do not list your email address here!]

 

[insert your username, and make sure your preferences allow for people to contact you via e-mail. Do not list your email address here!]

−
 
 

[[Category:Vintage Sewing Patterns]]

 

[[Category:Vintage Sewing Patterns]]

 

[[Category:Advance]]

 

[[Category:Advance]]

 

[[Category:1950s]]

 

[[Category:1950s]]

−

[[Category:]]

+

[[Category:]]

 
+

[[Category:Dresses]]

 
+

[[Category:Blouses]]

 
+

[[Category:Skirts]]

 
+

[[Category:Full Skirts]]

 
+

[[Category:Yoke]]

 
+

[[Category:Gathers]]

 
+

[[Category:Stripes]]

 
+

[[Category:Inverted Pleats]]

 
+

[[Category:Box Pleats]]

 
+

[[Category:French Cuffs]]

 
+

[[Category:Extended Shoulders]]

 
+

[[Category:Turn-Over Collar]]

 
+

[[Category:Pleats]]

 
+

[[Category:Long Sleeves]]

 
+

[[Category:Short Sleeves]]

 
+

[[Category:Band Cuffs]]

 
+

[[Category:Contrast]]
---
Latest revision as of 03:17, 26 June 2015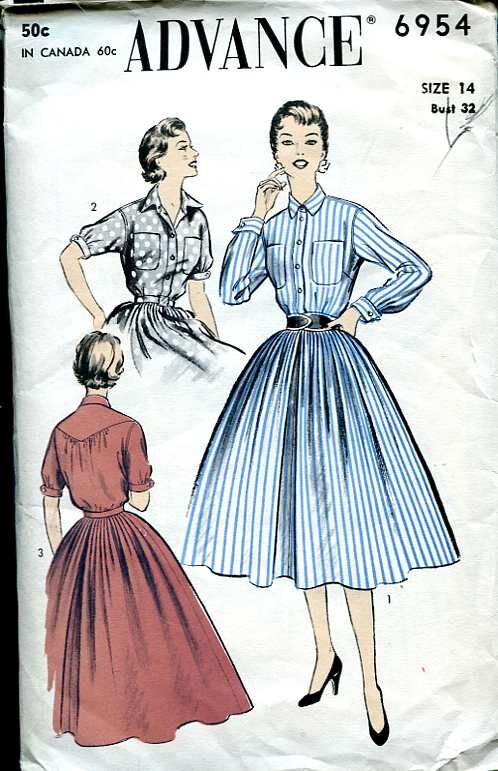 MISSES' TWO-PIECE DRESS. The TWO-PIECE Dress with THE ONE-PIECE look. Blouse has long shoulder, collar cut in one with neckband, V yoke in back with gathers below it. Skirt has soft casual drape and can be petticoated. Inward turning soft pleats form inverted pleat at center front and back, box pleats at sides. (View 1) Long sleeves, French cuffs. Cut for stripe. (Views 2, 3) Soft short sleeves, band cuffs. In one fabric or contrast. Zipper in side seams.
Links to reviews/blog posts[edit | edit source]
[insert your photos of this pattern made up]
[insert your username, and make sure your preferences allow for people to contact you via e-mail. Do not list your email address here!]
Community content is available under
CC-BY-SA
unless otherwise noted.